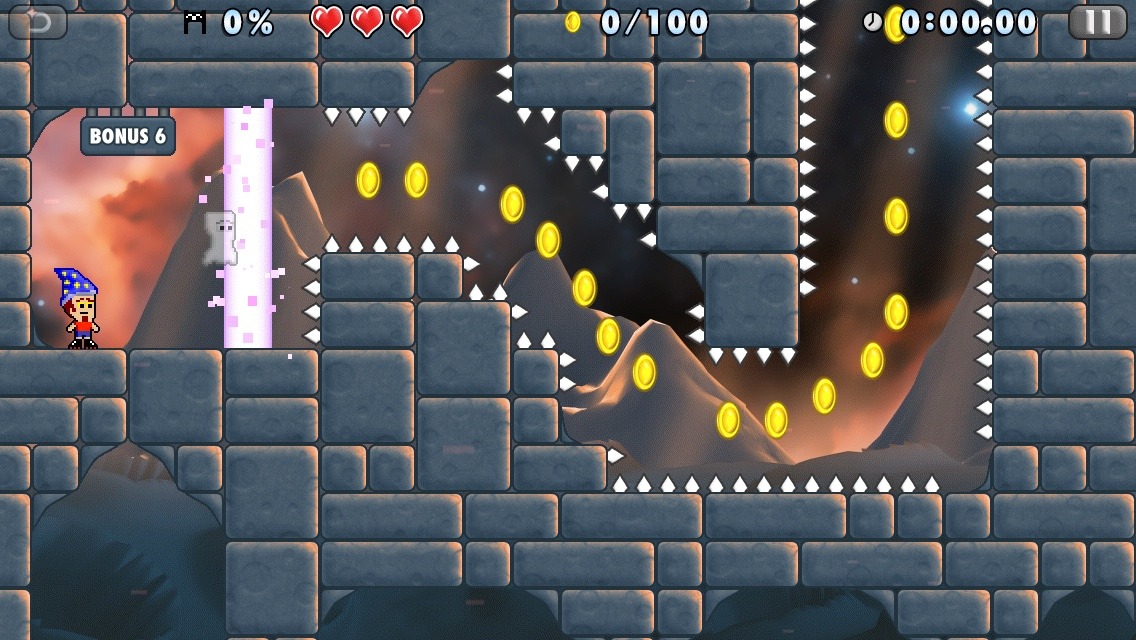 Mikey Hooks is the most recent edition in the Mikey series of games from Beaver Tap. Each of the games has focused on a specific mechanic, and this game's is the endless runner. You can tap either side of the screen to propel Mikey right or left. Anyone who has spent days grinding on Battletoads' racing level, became obsessed with Flappy Bird, or sped through a level of Super Mario to beat their best time will love the pace that this game brings. See Toucharcade's excellent review.
The game is just the right level of difficulty, and although it takes some time for the sensitivity to enter your muscle memory, the coins are placed like breadcrumbs through the level, and never steer you wrong (into missiles). Likewise, the secret compartments are fairly hidden and almost easy to find (except the ice levels), by using peripheral vision as you navigate through the stages.
Having just gotten all stars and coins, and having not seen another reference for the coin locations online, here's my list of all the coin locations if you're having trouble (I know I did with some of the ice levels). Each row lists the level, the % distance of the secret room entrance, on which side the entrance is, and whether you'll have to backtrack or not (sometimes you backtrack through levels as you climb through them and the % distance declines).
Level,Entrance %,Location,Instructions
1,21,bottom,
2,69,right,
3,38,bottom,
4,44,top,
5,50,top,
6,57,top,
7,53,top,
8,36,top,
9,97,top,
10,49,bottom,
11,79,bottom,
12,57,top,
13,26,top,
14,55,top,
15,42,left,backtrack at 50%
16,80,top,
17,79,bottom,
18,77,top,
19,22,top,
20,83,bottom,
21,50,top,
22,93,top,
23,50,bottom,
24,42,bottom,
25,66,top,
26,45,top,
27,24,bottom,
28,66,right,
29,42,top,
30,72,right,
31,43,left,backtrack
32,49,top,
33,58,bottom,
34,76,bottom,
35,58,bottom,
36,77,top,
bonus 1,42,bottom,
bonus 2,49,top,
bonus 3,75,left,
bonus 4,57,right,
bonus 5,1,top,
bonus 6,74,top,